Sums it up nicely I think….Sat 4th August 6 intrepid Riverton Raiders (Yes that's our new moniker – I made a Presidential decision…actually its Bruce's fault..more on that later) Anyway it was a cold and wet afternoon and as usual they forgot to turn the heaters on at HBF stadium – I tell you what just as well Irish did not swim she would have been blue from head to toe,……It was very well run meet as always with over 230 swimmers and 277 relays there was some great swimming and the pizzas at the post-meet feed were actually really really good!
It was great we were able to put out a team this year and a big thank you to those who were able to attend – let me run you through the starting 6 !
Teale "I am not really an alcoholic" Gordon – As a high school teacher Teale is subjected to all sorts of stress in an average week, however, not as stressful as having to do 25m backstroke! In the last event of the day, Teale nailed her start and powered down the pool to big cheers from the side of the pool !!! Whilst multiple changes of cossies assisted in keeping her from freezing to death, Teale also took out the award for "Most Stylish Frames on a pair of Glasses" award !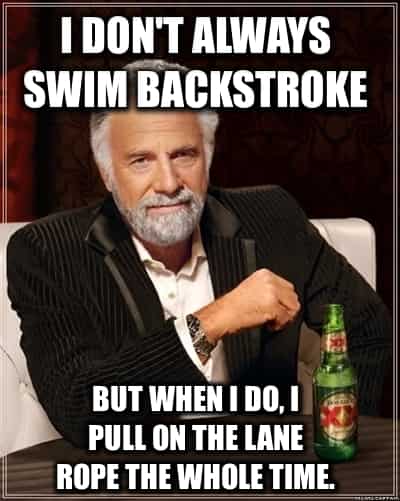 Bruce "Grandpa" Scorer – Big bad bustling Bruce muscled his way through the water really well, despite battling sleep deprivation after spending some quality early morning time with the newest addition. Bruce also spruiked some grand ideas for "Riverton Raiders" and i think we need a paradigm shift, which means we need to stop moving the goalposts and get some e-business around his ideas……yeah I don't know what I just said either.
Hmmm I reckon he is at least wearing a water polo cap…..we can work with this surely!
Adam "Thor" Kaprowski (silent W) – After spending his time since Nationals with his feet up sipping daiquiris (he loves a good cocktail umbrella) it was great to see Thor break out the budgie smugglers and crank out some speedy swims, Thor also won the award for "Most Pizza Eaten After the Relay Meet" It was a pleasure to watch well-done mate !!
Paddy "Freight Train" Knight – Our very own freestyle specialist or rather frog-in-a-blender- specialist, either way, Paddy stormed down the last 50 or 25 of every relay he swam in and gave it his all, hence the coming home like a freight train….Paddy also regaled us with some colourful stories from his past – Gaff ain't got nuthin on our Freight Train!
Caris "I don't like Tumble Turns" Gordon – Despite this Caris smashed out some great swims and like Teale utilised her 1,000 different pairs of cossies to combat the cold and still had a smile on her face after her last swim, so clearly this strategy paid off !
Another fun meet in the books, thanks for reading!
Yours in H2O
Damo